What We Do
Information Management Systems (IMS)
Simply put, we develop, manage and host web applications for the management of business information, processes and knowledge creation. These are intelligent and interactive web-based tools for the provision and delivery of information.

Besides application-oriented systems we build regular websites but with the specific addition of content management built-in, meaning the content itself can be maintained and updated content as required and without the need for a retained external agency. The content management system (CMS) we build is bespoke. We code it specifically for you, to give you complete control over the level of interaction you want with your site.
Functionality & Performance
With our help you can create your own business software applications suited specifically to your needs and processes. No need to compromise on trying to use existing software, and contorting it with work-rounds and patches to bully it into submission. Alternatively use our existing applications as they come or let us tailer them to something more bespoke. See our gallery below for examples.
Platforms
Web applications can run on any device with internet access from the desktop computer, laptop, tablet or smartphone. It means remote workers and those in the field would have the means to access the same information and to contribute to the central pool.
Software as a Service (SaaS)
This is a concept whereby business applications are hosted on the web and delivered over the internet to any web-enabled device. See Wikipedia for wider information on SaaS. This is what we do, develop software applications for delivery over the web.
What IMS/CMS means for you
Access your information, manage it and create productivity wherever you are
Manage your own content and update it whenever you want
Get the software you need whenever you need it
The software and the data is kept up to date, safe and accessible
Enable and control access to your information base - great for remote workers and client/team portals
Manage your business information better and leverage it with extra modules as you need them
Generate correspondence, forms, reports, etc using
Examples
Corporate Databases
Contact Relationship Management
Information Tracking
Project & Change Management
Project Admin
Asset Management
Quality Assurance
Benchmarking
Gallery
Cost Information Service
Housing construction cost information service enabling subscribers to sample build cost information from a wide database of schemes against a wide range of search criteria. Subscriber add their own schemes to the service to increase the pool of data for all members.

Other cost models can be written to the requirements of the client.
Property Management
A web application for landlords or their agents to manage a portfolio of properties.

The System manages



essential property information
tenancies
call outs
service contracts
works orders
customer relations
QA Intranet
This intranet site provides practice and project management systems for architectural, surveying, etc practices. Its extensible, modules can be added according to the need of the business.

This site runs the company's contacts database, projects database, project quality control checklists and audit trail for work stages, project analysis, project registers, marketing data and links to other company systems and information sources. Secured with user sign-in feature to personalise content and control access according to users's rights.

It's got keyword searching and advanced searching features: eg find all retail refurbishment projects in Kent or for a particular client.

Timesheet functionality, early warnings, programming milestones can all be bolted on.
Intranet Modules
Any number of specific use modules can be added to our management systems. In this example a system for managing party wall notices and awards.
Bespoke CMS
This site has a bespoke cms back end that allows the artist to add new works to the site, take work offline, create and manage galleries, and edit text as desired. It makes maintaining the site easy for those who don't have the time, interest or skills to do it the hard way.

We...



registered the site.
set up the right hosting package, including the email accounts, server space and necessary programming and database features.>
designed and wrote the public-facing website
designed a cms interface to suit the user's needs and skills.
Intranet in/out board
This utility is an electronic in/out board. It's the 21st Century version of the company in-out board.

This sits quietly on the desktop and allows staff to see if a colleague is in the building or when they're returning. Each user can book in & out at any time. Using a smartphone or tablet with web access the features can be accessed remotely.

This was written for a large firm with four offices but it can be scaled to any number, and further organised by branch, team, floor, etc.

We...



assessed the client's brief
wrote the programming and cms
host and maintain the facility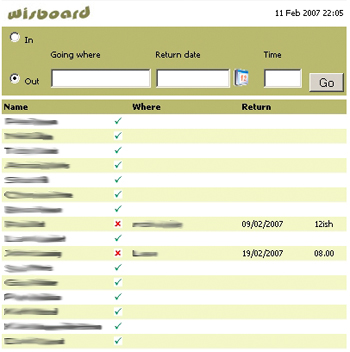 Screenshots:
1
Useful Links
Get in Touch